The 7 Deadly Sins, also known as the Capital Vices or Cardinal Sins, is a classification of objectionable vices that have been used since early Christian times to educate and instruct followers concerning fallen humanity's tendency to sin. The currently recognized version of the list is usually given as wrath, greed, sloth, pride, lust, envy, and gluttony.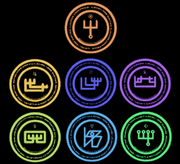 Ad blocker interference detected!
Wikia is a free-to-use site that makes money from advertising. We have a modified experience for viewers using ad blockers

Wikia is not accessible if you've made further modifications. Remove the custom ad blocker rule(s) and the page will load as expected.